WordPress powers more than 42% of the web (that's over 455 million websites that use WordPress as of 2021!), and for good reason too.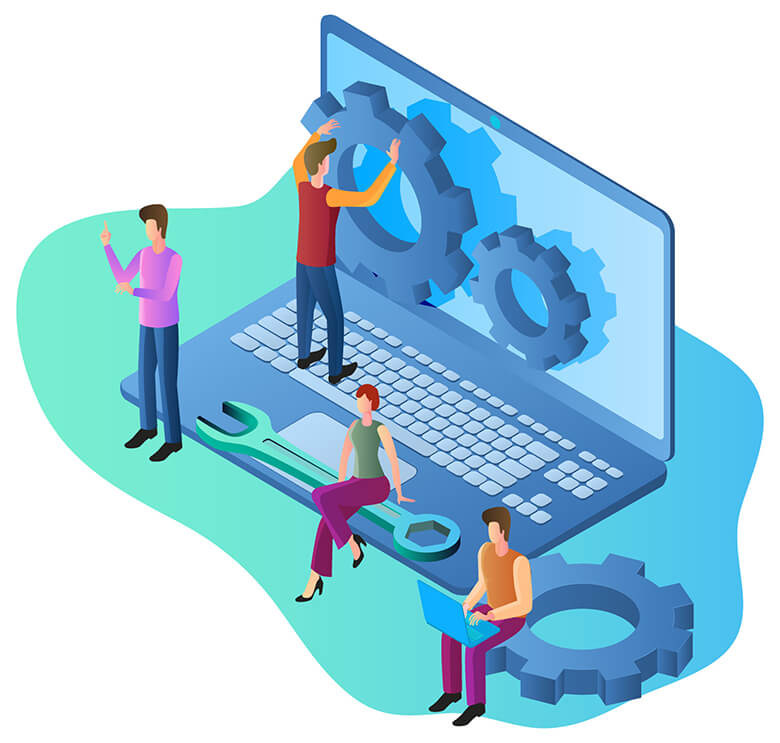 This flexible, easy-to-use content management system empowers companies to create impressive websites with unlimited functionality options. Having a WordPress site means you have access to thousands of plugins, themes, and extensions to create a website that attracts and converts your target audience.
But, like every other kind of website platform out there, WordPress has to be updated and maintained at all times, or you could run the risk of falling behind your competitors (or worse, falling prey to hackers).


Simply having a WordPress website isn't - and never will be - good enough. You must keep your website's core themes, plugins, and security measures updated at all times.

If your website isn't working correctly, you could run into many complications. Your website might have security issues, clients might find it challenging to use, or you might come off as an outdated, untrustworthy business.
Here at Synarcon, we're experts at helping businesses grow digitally, so we wanted to show all of our readers why WordPress maintenance is so essential. We have been working on WordPress websites for a very long time and what we present here about WordPress website maintenance is based on the experience we accumulated over many years.
Our team of WordPress experts has composed this comprehensive WordPress maintenance guide that you can use to make sure your WordPress website is always running at its best.
Take a look at our definitive guide to WordPress maintenance to understand what you need to do to ensure your site is working smoothly - and how to keep it that way.
What Does WordPress Website Maintenance Include?
Before we delve into what you need to do to ensure your WordPress website is maintained and working as it should, we have to go over what WordPress website maintenance actually is and why it's essential to keep on top of it.
WordPress maintenance refers to a series of regular tasks that help:
Optimize your website

Keep your website secure

Make sure your website is running properly

Enhance your website's usability

Keep your website visitors happy
What WordPress Elements Do You Need to Keep Maintained?
In a broad sense of good website maintenance practice, everything should be regularly updated on your website (including your copy, images, and blogs), but when it comes to the backend of WordPress, you should focus on:
Keeping all of this maintained will ensure your website is secure and user-friendly.
The Most Important WordPress Maintenance Tasks
While there are many WordPress maintenance tasks needed to keep your website up and running, we understand that busy website owners have a never-ending list of things they need to do. At the very least, you should be taking care of these two essential tasks:
Security Plugins: How to Protect a WordPress Website from Security Breaches and Viruses
Whether you've got an eCommerce website on WooCommerce or a simple brochure website advertising your company's services, keeping your WordPress site regularly maintained will enhance your site's security.
Keeping your data, and your client's data, safe is vital for the success of your business online. If you own an at-risk website, your audience isn't going to feel comfortable working with you. If you keep your website updated at all times, potential clients will be happy to input their personal information on your website.
Some WordPress plugins, like Sucuri, Jetpack, Wordfence, or iThemes Security, can protect you from phishing attempts and online fraud. They prevent hackers from breaking into your website to steal valuable information like financial data. If you don't have one of these already installed on your site, we highly recommend you invest in a subscription.
Remember! You're responsible for keeping your client's information safe, and if their data falls into the wrong hands, you'll be held accountable. WordPress maintenance doesn't just keep your website safe, it also protects you from facing complicated and expensive lawsuits.
Take Regular Backups of Your Data!
Malicious viruses and crafty hackers aren't the only ways you can lose confidential data. Sometimes core updates can cause problems with a website's functionality. Sometimes a human error can lose a website.
This is why it's essential to back up your website data regularly, enabling you to retrieve it whenever you need to, and you don't have to worry about it getting deleted or lost.
WordPress maintenance involves backing up data daily, weekly, or monthly so you'll be able to relax knowing your data is safely backed up, stored, and ready to deploy if needed.
WordPress Maintenance Is Critical To Your Website's Success
WordPress constantly updates itself to provide companies like yours with the best service possible. If you don't keep your website updated along with WordPress' latest releases, you're going to run into issues.
Your website has to be maintained if you want to be successful online. Keeping on top of your WordPress maintenance will allow you to provide your audience with a safer, more secure, and more reliable experience online.
By maintaining your WordPress website, you'll be able to keep up with any changes made to your plugins to ensure they're all working.
You'll also be able to enhance your user experience and keep your visitors happy with how your website's running, and you'll be able to assure them that their data is safe when they make a purchase or provide you with their details.
Keeping your WordPress website maintained is critical to your website's success because, without an up-to-date website, you won't be able to provide your clients with the service they expect. This will reduce the number of conversions you achieve, and it might have a negative impact on your business as a result.
What Are The Benefits Of WordPress Maintenance?
Keeping your WordPress website maintained at all times has a lot of benefits. By doing regular maintenance on your website at least several times a month for as long as your website is in operation, you'll be able to take advantage of these five fantastic benefits.
Improved User Experience and Conversions
Did you know that 88% of online shoppers say they wouldn't return to a website if they've experienced poor usability? Plus, 70% of online businesses fail because of a poor user experience.
Do you know what causes a bad user experience? Not updating your WordPress website and avoiding maintenance tasks!
By keeping your WordPress website maintained and updating plugins, you'll be able to ensure that your website runs smoothly, loads quickly, and doesn't have any annoying bugs.
Slow-loading websites or dodgy links and buggy pages can frustrate your visitors so much that they might even leave without making a purchase. If you keep your website updated, you'll quickly reduce your bounce rate and keep your clients content with your website's usability.
Improving your SEO (Search Engine Optimization) is key to getting seen online and attracting more high-quality clients to your website.
WordPress websites can be optimized for search engine rankings easily using some powerful plugins, keyword research, and consistent, high-quality content updates.
But, if you want to continue to gain fantastic SEO enhancements, you're going to have to keep your website updated.
There is more to SEO than skillfully placing keywords in the right place.
You at least have to:
Scan your website regularly to check for any broken incoming and outgoing links

Compare your latest website sitemap with the number of pages indexed by Google. Any unindexed pages won't show up in the results.

Check for any technical errors, missing tags, or other issues.

Run regular SEO audits to ensure your WordPress website gives you the best when it comes to your SEO.

Increased Traffic to Your Website
Having a website that's entirely up to date and maintained consistently will help you quickly increase traffic heading to your website.
Your website will be user-friendly, secure, and it'll be favorable with the search engines if it's always up to date. This means your website will appear to your audience a lot more, meaning you'll get more people flooding to your website.
Not only this, but having a maintained website means your loading times won't be long, and your website will work perfectly. So, your visitors are more likely to stick around to see what you have to offer instead of bouncing away quickly.
Reduced Website Errors and Downtime
There's nothing worse for a customer than browsing through beautiful products and not being able to add them to their cart because the buy now button doesn't work, or when they run into a surprise 404 page where your blog full of interesting content should be!
By keeping your website updated and maintained, you'll reduce the number of website errors that you receive, and your website won't go down as often.
Increased Leads and Sales
We've already discussed how having a maintained website improves your user experience, enhances your SEO, improves your traffic, and reduces errors. It's only natural that it would also improve your leads and sales.
A finely tuned website that works without a hitch will encourage your visitors to explore what you have to offer at their own leisure. They won't have to worry about pages not working and can peruse your stock happily. They might even make a purchase or sign up for your newsletter - enhancing your leads and sales!
How Do You Know If Your Website Needs Maintenance?
If you haven't maintained your website in a while or haven't updated it since it launched, you've probably already noticed a few issues cropping up.
You'll know your website needs maintenance if:
Pages are loading slower than usual

It takes longer to perform tasks on the website

Your design is broken - fonts are different, images are broken, links don't work

Certain functions on your website are failing - users can't search for things, submissions aren't working

Error messages are cropping up along with 404 pages

Your website goes down or isn't loading at all

Content you don't own is showing up on pages

Your website gets hacked regularly or infected with viruses

Sales are decreasing online along with traffic and leads

Your bounce rate has skyrocketed
If you've started noticing any of these issues on your website, you might be in a bit of trouble. Now is the time to get it fixed! Start updating and maintaining your website today to create a safer, more reliable experience for your end-user.
The Benefits of a WordPress Website Maintenance Service
As a busy business owner, you don't exactly have the time to maintain your WordPress website every day - do you?
This is why WordPress website maintenance services are one of the best things that are available for your website.
When you have no time to focus on regular maintenance, or you're not sure how to even begin maintaining your site, hiring a professional to help you out is a great option. WordPress maintenance specialists, like our team at Synarcon, will be able to provide you with the technical expertise you're looking for.
By signing up for a WordPress maintenance service, you'll be able to focus on the other important areas of your business while a team of experts sorts out your website.
No more worrying about plugin updates or security monitoring. You can finally focus on running your business while the professionals take care of the rest.
We hope our ultimate guide to WordPress website maintenance has helped you learn a thing or two about keeping your WordPress site up to date - at all times!
If you're unsure how to get started or worry that your website is out of date, then bring in the big guns and hire a professional WordPress maintenance expert.
The Synarcon team would be happy to help you with all your WordPress website maintenance needs and provide you with the technical assistance you need to work your website perfectly.
Let's talk about the future of your website maintenance!